Sleeping Arrangement
Description
Villa Tesoro Del Mar.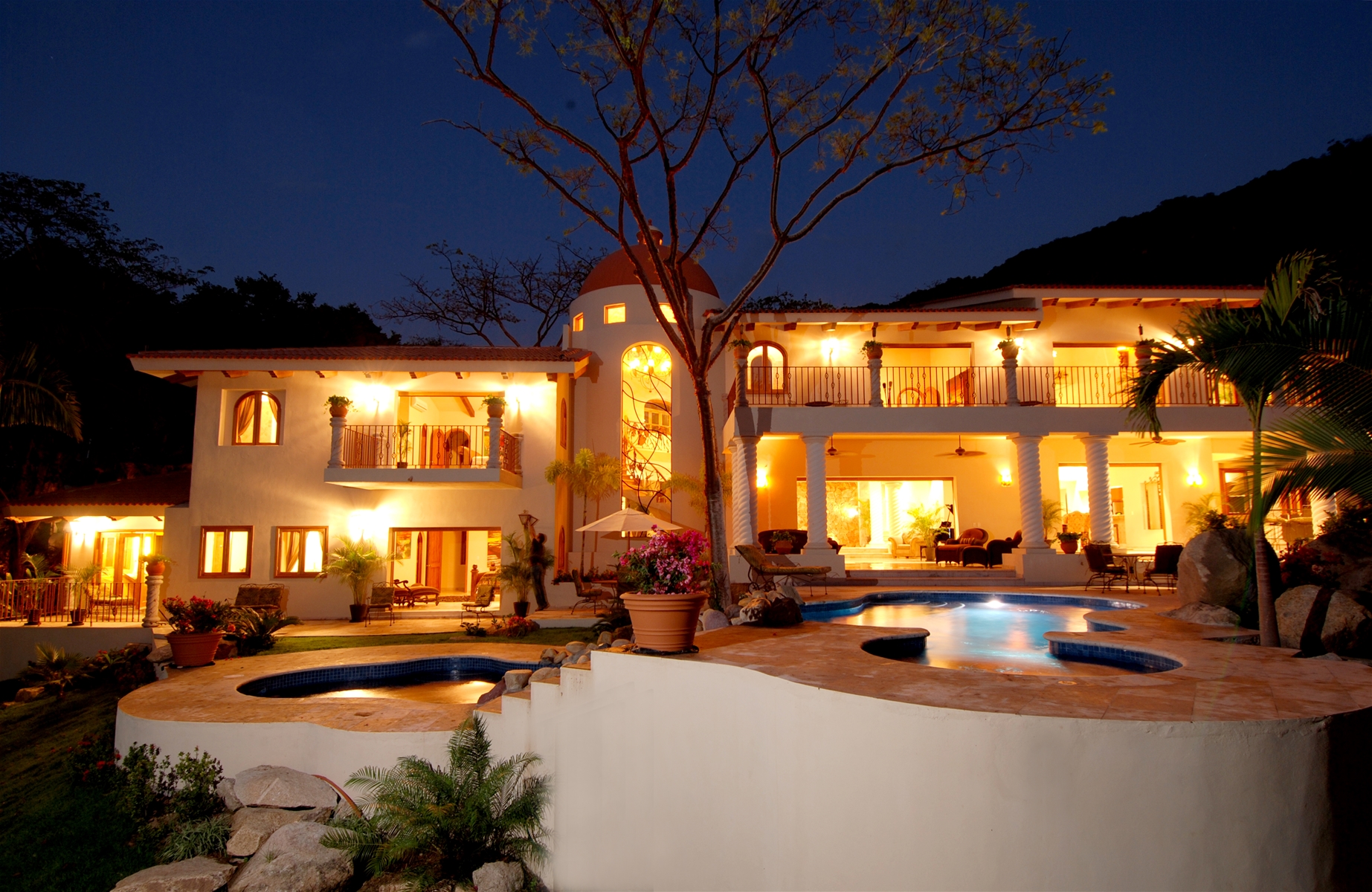 Description.
Villa Tesoro del Mar is a stunning 7 bedroom, home tucked perfectly into the hillside of Sierra del Mar, an opulent gated community with 24 hour security just 10 minutes south of downtown / Romantic zone, Puerto Vallarta.
The villa is a 10 minute stroll to one of the finest beaches in the area, Playa Las Gemelas, which is ideal for swimming or snorkeling.
The finishes and furnishings have all been custom made for the home, offering top of the line comfort and a truly relaxing atmosphere.
Enjoy spectacular ocean and mountain views from the privacy of this incredible property.
Relax completely on your vacation as the villa comes fully staffed with a fabulous cook to prepare 2 meals per day (cost of groceries extra) and daily housekeeping.
AMENITIES

- 7 air conditioned bedrooms with terraces and either jungle or ocean views, 10 bathrooms.
-Heated two-level pool with jacuzzi and fire feature
-Outdoor palapa with hammock and dining area
-Complimentary Wi-Fi
-Ping pong & pool table
-Fitness equipment including treadmill and free weights
-Baby grand piano
-Media room with flat screen TV
-Gated, private community with 24 hr security
Staff / Services.

-Privated Chef providing 2 meals per day ( Food and beberage not incluided)
-Housekeeping
-Maintenance man / Gardener.
Bedrooms description.
* Master bedroom: King bed, en-suite bathroom with jetted tub and double vanity, shared terrace with ocean views
* Guest Suite 2: King bed, en-suite bathroom, shared terrace with ocean views, TV
* Guest Suite 3: Queen bed, en-suite bathroom with double shower, private terrace with ocean views, TV
* Guest Suite 4: Queen bed, en-suite bathroom, garden view
* Guest Suite 5: King bed, en-suite bathroom, partial ocean views
* Guest Suite 6: King bed, en-suite bathroom, walk out to pool
* Guest Suite 7: King bed, en-suite bathroom, kitchenette, garden view, walk out to garden

**
NIGHTLY RATES / PRICES BY BEDROOMS.

Villa Tesoro del Mar is a 7 bedroom villa, smaller groups who don't need use of all of our bedrooms will pay a discounted rate.
Villa Tesoro del Mar is a private villa so even if a group does not rent all the bedrooms, no other guests would stay there at the same time.

Winter Season (Nov 01 - Apr 30)
4 Bedroom Nightly Rate (up to 8 guests) = $900 USD
5 Bedroom Nightly Rate (up to 10 guests) = $1075 USD per night
6 Bedroom Nightly Rate (up to 12 guests) = $1250 USD per night
7 Bedroom Nightly Rate (up to 14 guests) = $1425 USD per night

Summer Season (May 01 - Oct 31)
4 Bedroom Nightly Rate (up to 8 guests) = $700 USD
5 Bedroom Nightly Rate (up to 10 guests) = $825 USD
6 Bedroom Nightly Rate (up to 12 guests) = $950 USD
7 Bedroom Nightly Rate (up to 14 guests) = $1075 USD

Holiday Season (Christmas and New Years' weeks) = $2500 USD per night

**VIlla is located in a quiet neighborhood, Bachelor parties / Springbreakers / Noise are not allowed**
**Mid year there will be and extra bedroom , plus two pull-out couches , allowing villa tesoro del mar host up to 18 guest **


Please contact us for a quote and promos.

[email protected]

Office; +52 (322) 133 0313
Sergio (Villas agent); +52 (322) 332 7350

Guest Reviews.

Impeccable Villa with Amazing Staff
5/5 Stayed Jan 2019
Micah B.
Our group had a perfect vacation at Tesoro del Mar.

We are 10 good friends who were having a getaway together, and there could not have been a more ideal setting for it.

The house is absurdly nice. The bedrooms were all luxurious, and the living and dining rooms beautiful and spacious. The pools were fantastic, and the palapa was a favorite.

The real star, however, was the house staff. Doria and Monica were impeccable cooks who kept our bellies full with delicious food and the margaritas flowing. Cielo and Carlo kept the house in tip-top shape. And Carla, the concierge, was quick to help us with anything we needed, even helping us track down a great bulk molé stand to take some flavors home with us.

All in all, our stay was characterized by the complete and total lack of stress. We very much hope to return!

Published Jan 23, 2019
Tesoro Del Mar is a lavish and spacious villa with beautiful grounds and wonderful staff.
5/5 Stayed Dec 2018
Pam N.
We had an amazing stay at the villa. The view and pool area are wonderful. Monica and Doria prepared delicious meals for us along with yummy margaritas! The villa was spacious and clean. Highly recommend.

Published Dec 11, 2018
What a beautiful property!
5/5 Stayed Oct 2018
Dawn B.
We had 10 people in our party and all 10 could not believe this spectacular Villa!!!! We had the best vacation and the staff was amazing. Our concierge Carla was always there when we needed to go somewhere or to help us plan our day activities. Monica our chef made the most amazing meals and was always asking if we wanted more Margarita's......which of course we did!!! The rooms were always clean by Cielo and Carlos was always there when we needed anything that might not have been working properly. What an amazing vacation!!!!!! Would definitely go back!!

Published Oct 28, 2018
Owner's Response:
Hi Dawn,

Thank you so much for your kind review! We are so happy that you and your family enjoyed your stay at Villa Tesoro del Mar! We hope to see you back here in Puerto Vallarta again very soon. Keep in touch!

Speechless..
5/5 Stayed May 2018
Alex W.
Where to start? Well - I got engaged on this trip! The experience ladies and gentlemen will honestly stay with you guys for the rest of your lives regardless of the reason you are drawn to this villa in Puerto Vallarta. The seven spacious bedrooms have you feeling like royalty.. The pool table, fitness room, piano and two story in-house waterfall.. The video of this villa on YouTube cannot even slightly give this home justice on behalf of just how amazing it is to stay in.

My trip consisted of four nights and five days with six people. Each new day my now fiancée would state at some point during the day, "This is the happiest day of my life." This really is such an amazing place to stay and it really does have the affect on everyone! Although you feel like a celebrity while living here because of the architecture, picturesque sunsets and grandiose decorations, the staff you guys will really take everything to a whole other level! Monica and Doria served up restaurant quality meals EVERY time we sat down to eat... and for our times at the pool they were quick to bring fresh mango margaritas they made up ALL DAY. At one point we ran out of tequila (short story, it involved a lot of drinking) and Doria was quick to ask if she could run out to the store to pick up another bottle to keep the margs coming!

That isn't even the extent of the staff's efforts to make sure we had the absolute best trip possible. Our concierge Carla.. I could honestly write a novel to try and explain all the work she went through on our behalf. Because I was planning a proposal in the palapa on the property, her and I email exchanged for two solid months including OVER 80 emails!! Have you heard of anyone doing that just to make sure you had the best experience ever? She would text us when our next event was, send directions to our phones to get back to the villa in Spanish to make sure we never got lost, spent hours of her time haggling with little ol' ladies on the beach to get authentic Mexican felted hearts we could use for the proposal.. and even went back into town to stop by a venue we were at to search for a missing ID Card.

You are not simply staying at a vacation rental here.. you are living your best lives.

Villa Tesoro del Mar - I'll be back next year!

Published May 10, 2018
Owner's Response:
Dear Alex, Where do we start?? It was such an incredible experience to have you choose Villa Tesoro del Mar as the location to propose to your future wife and allow us to be part of the experience. All of the staff at the villa and Carla loved helping plan all the little details to help make this even more special for both of you! It was truly an absolute pleasure to have you stay and we look forward to your return. Congratulations!! We wish you a lifetime of happiness!!

Sincerely,

Larissa, Carla, Doria, Monica, Cielo, Carlos and the rest of the Agave Villas Team!

Beautiful home - wonderful staff
5/5 Stayed Mar 2018
Pete C.
We enjoyed a wonderful family/friends vacation here. The house was very spacious and clean. Great location, easy to get cabs and a short walk to the beach. The staff was wonderful, prepared great meals and was amazing with the kids. Would definitely recommend this house.

Published Apr 2, 2018
Owner's Response:
Thanks so much for the great review! We're so happy to hear that everyone had a great time at the villa and look forward to your next trip.

Absolutely fabulous vacation rental in PV
5/5 Stayed Feb 2018
Deborah N. Minneapolis
We stayed at Tesoro del Mar for 4 nights, 7 women, to celebrate birthday milestones. It was beyond our expectations. The house was beautiful, immaculate and immense. The pools and grounds were gorgeous. The staff was incredible. We always had fantastic food, margaritas, cleanliness and service at our fingertips. The rooms were spacious and open air and had beautiful views.

The house is very private and tucked away from the city and beach. We were able to fairly easily take the bus into the city although we took cabs back. The walk down to the beach is fine but I suggest a ride back up! The beach itself was incredible, especially at sunset. But honestly you would never need to leave the rental at all.

I would highly recommend staying at Tesoro del Mar for celebrations and vacations for a moderate size group. You won't be disappointed!

Published Feb 21, 2018
Owner's Response:
Hi Debbie, We're so happy to hear that all the ladies had a great time at Villa Tesoro del Mar for their birthday celebrations!! I know it was an important trip for you all so it's wonderful that the villa, staff and stay exceeded your expectations. We hope that you'll get a chance to visit us again soon!!



Amazing, just as described
5/5 Stayed Jan 2018
Corinda F. Dallas, TX
My group of 12 (6 couples) had a terrific stay at Tesoro del Mar. The service was great from the very beginning. Maria and Carla were responsive to all questions and helped made our birthday celebration wonderful by going the extra mile to deliver balloons and a pre-ordered birthday cake. The chefs were so sweet and easy to work with-we could get used to homemade tortillas for every meal! The food was delicious, service wonderful, and the home was just as described/pictured. You won't be disappointed here!

Published Jan 19, 2018
Owner's Response:
Hi Corinda, We're so happy to hear that you had a great stay at Villa Tesoro del Mar for your birthday celebrations!! Thanks so much for taking the time to leave us a review. Hopefully you get a chance to come visit again soon!

Amazing time at Villa Tesoro del Mar
5/5 Stayed Nov 2017
Simon W.
Villa Tesoro del Mar is a beautiful property in a wonderful tropical setting. You feel like you are tucked away in your own corner of the jungle, yet you are only a short walk down to (my personal favorite) swimming beach in the area! The staff went above and beyond to make us feel like royalty and it was wonderful to wake up to breakfast every morning. I would highly recommend this property for any types of travelers, either those with kids who want good beach access, or larger groups of friends/couples who want a large and beautiful space to share. Looking forward to our next visit :)

Published Dec 6, 2017
Owner's Response:
Hi Simon,

Thank you so much for the kind review! We are so happy that you enjoyed your stay. Playa Las Gemelas is our favorite too!! Hopefully you'll be able to return very soon!

Family Vacation
5/5 Stayed Jul 2017
Janice V.
My family and friends enjoyed a wonderful 8 days at this lovely Villa! There were 15 of us, 10 adults and 5 children ages 2-12. The staff were awesome! They were very friendly and helpful. Carlos and Cielo kept the villa spotless inside and out. The food prepared by Doria and Monica was so delicious! Most of our meals were vegetarian/vegan and they did a wonderful job preparing these meals! The property is well kept and comfortable. The pictures and video can't capture all the fine detail and craftsmanship of this lovely Villa! Maria, the Concierge is wonderful and personable! She came by twice while we were there and was always accessible by email, phone, or WhatsApp. When booking with Agave Villas, Larissa was very helpful and thorough. She and Maria were always available to answer our many questions! The response times were very prompt!

We spent the majority of our time at the Villa with the occasional trip in to town. There was hardly a wait when Carlos called for a taxi to come up to the villa. The beach is in walking distance to the villa. It is down hill but keep in mind that you have to come up hill on the return. On one trip to the beach, Carlos brought down the beach chairs and umbrellas that the villa provides. This was great! (The chairs and umbrellas that are already at the beach are for the guests of the hotel.) We are already planning a return trip to Villa Tesoro Del Mar!

Published Aug 2, 2017
Owner's Response:
Hi Janice, we're so happy to hear that you and your family enjoyed your stay at Villa Tesoro del Mar. Thanks so much for the great comments and for taking the time to leave us a review. We look forward to your next trip!

Fabulous week at the villa with my family!
5/5 Stayed May 2017
eileen v.
We just got back from an incredible stay at Casa Tesoro del Mar. The villa is even more beautiful than the photos show and is maintained by a wonderful staff. We especially enjoyed the pool, which was cleaned every day. Doria and Monica provided great food and margaritas on request. We are so spoiled after having them cook for us! It was also wonderful to have maid service every day. We also were very pleased with the service provided by the front gate. We requested cabs on several occasions and were impressed with how quickly they arrived.

Larissa was very attentive to our requests for help booking excursions and we were able to book a ziplining trip and an evening cruise, which we all enjoyed very much. We all highly recommend this villa if you plan to visit Puerto Vallarta.

Published May 23, 2017
Owner's Response:
Hola Eileen, Thanks so much for coming to visit us at Tesoro del Mar and taking the time to share your experience. We're so happy to hear that everyone enjoyed their stay. We will certainly pass along your lovely comments to the staff as they very much appreciate them. Hopefully you will get a chance to visit us again in the future.

Amazing Villa for Large Group
5/5 Stayed Mar 2017
Adrianne L. Charlotte, USA
We had a group of 15 stay at the villa (11 girls, 4 guys, all friends) and we had a spectacular time. The villa was big enough for everyone to escape if they needed to for some quiet time, while the pool, dining room and patio were great hangout spots for the group. We did utilize the chefs Monica and Dorian, who were FABULOUS (the highlight of the villa...seriously)! Don't get me wrong, the villa is GORGEOUS and the pictures do it no justice, but the gem of the villa truly are the dynamic duo Monica and Dorian. They were sooo sweet and kept feeding us (we're young and were always hungry). If you need transportation for anything, feel free to reach out to Maria, she was top notch is helping me arrange transportation for the entire group to our excursions. The villa is located about 10 minutes from downtown PVR and about 30 minutes from the city. So utilizing the chefs is a big plus, saves on grabbing taxis for dinners and what not. We made a grocery list and menu of what we wanted to eat prior to arrival, gave the chefs money for the groceries and spent little to no money to cover all of our food for 15 people (we also were eating easy meals). ALSO!!! MAKE SURE YOU GET SOME OF DORIAN'S EGGS!!! BEST SCRAMBLED EGGS ON THE PLANET!!! Lol Obviously, Dorian and Monica were great. The rest of the staff were as well, we didnt interact with them as much as we did with the chefs, but still great people all the way around. I'd recommend this villa to ANYONE!


Published Feb 3, 2017
What an Amazing Home
5/5 Stayed Sep 2016
Carolyn P.
I searched for several months for a place to stay in Puerto Vallarta that was within our price range but something kept bringing me back to Villa Tesoro del Mar although it seemed expensive and larger than our needs. After contacting management I was informed that because we did not need all 7-bedrooms our rates would be adjusted accordingly and so the house fit nicely into our budgeted amount and we reserved it for the last week of September 2016.The photos on the website were amazing and we were so excited that we would be staying in such a beautiful home. When we walked into the house we could not believe our eyes, the websites did not do it justice. This is one of the most beautiful homes I have ever seen in my life. Not only were the rooms immaculate they were beautifully decorated. My room opened up outside to the small pool. The other rooms had amazing walk-out terraces with beautiful views of the ocean and/or jungles. The heated double decker pool was awesome. Tricky though because it is a lot deeper than it looks, but wonderful. The house was warm and inviting when the doors to the outside were open and cool when we chose air condition instead. There are a lot of trees, flowers and birds on the property. We even had some wild turkey visiting us and other little critters coming up to see who was visiting them this time. The cook was wonderful. She made beautiful delicious meals and had a fresh pot of coffee each morning when I got up (I am usually the first one up) and it was delicious. We did not eat out once while there because the food was so delicious and the snacks were like a full lunch and always very appetizing. The cook did all of the food shopping for us and was very frugal. The girl who cleaned our room daily was sweet and always so accommodating and did a wonderful job keeping everything spotless. Our Pool boy was sweet and took great care of our pool each morning. The beach is down the hill and a little tough for returning unless you have transportation but it is well worth the energy. The water is clear, the beach is sandy and the atmosphere is wonderful. This is my fourth trip to Mexico and my seventh trip to tropical spots for vacationing. I think this is the one that I loved the most because of the house. We had a wonderful time, I can't wait to go back, plus our deposit was refunded in 4-days after our return; great customer service. I highly recommend staying at Villa Tesoro del Mar . I promise you will not regret it.

Published Oct 6, 2016
Great Villa!
5/5 Stayed Jul 2016
gaylen p.
This villa is beautifully appointed. Each bedroom has great views, plenty of privacy, comfortable beds and the a/c units worked great. The pool area is where you will spend most of your time because it is so beautiful and relaxing. Gloria took very good care of us, cooking breakfast and dinner each day. She even managed to teach us a little Spanish! Cielo and Carlos take immaculate care of the house and grounds. And Maria! She took care of all of our activity needs-booked the most amazing massages, zip line excursion, dinner reservations, she was amazing!

Published Aug 4, 2016
Amazing home, very spacious, with beautiful views and amazingly friendly staff!!
5/5 Stayed May 2016
Ana P. Fort Worth, Texas
This home is perfect for a family or group of friends to get away to an unforgetable vacation. The layout is very spacious, bedrooms have their own individual bathrooms and own AC unit for comfortable temperature control. Also four of the bedrooms have a private balcony and the downstairs bedroom has private access to the garden/pool area. You can spend your days enjoying the pool, reading on the hammock, playing cards under the large covered patio or walking on the beach. It is beautiful!! The staff that take care of the home are very attentive and friendly. The amazing cook, we were blessed to have, made the most delicious meals and kept us going with tasty beverages as well. This property also has an amazing concierge director who can help schedule excursions and activities to keep the group entertained. There are many options to meet varied interest. We were here for our friends 50th birthday celebration and we all had an unforgetable get away. We plan on coming back soon!!

Published May 21, 2016
Traveler
5/5 Stayed Feb 2016
Traveler Arizona
Wonderful place to stay. We felt so taken care of and had a wonderful time.

All the amenities were perfect. We hight recommend this location for any one

traveling to Puerta Vallarta.

Published Feb 15, 2016
Amenities
Tesoro del mar Pool.



Tesoro del mar Pool / Nigth View.



Tesoro del mar Master Suite.



Tesoro del Lobby.



Tesoro del Dinning Room.



Map
Calendar
Dec - 2023
S
M
T
W
T
F
S

1

2

3

4

5

6

7

8

9

10

11

12

13

14

15

16

17

18

19

20

21

22

23

24

25

26

27

28

29

30

31
Jan - 2024
S
M
T
W
T
F
S

1

2

3

4

5

6

7

8

9

10

11

12

13

14

15

16

17

18

19

20

21

22

23

24

25

26

27

28

29

30

31
Feb - 2024
S
M
T
W
T
F
S

1

2

3

4

5

6

7

8

9

10

11

12

13

14

15

16

17

18

19

20

21

22

23

24

25

26

27

28

29
Mar - 2024
S
M
T
W
T
F
S

1

2

3

4

5

6

7

8

9

10

11

12

13

14

15

16

17

18

19

20

21

22

23

24

25

26

27

28

29

30

31
Apr - 2024
S
M
T
W
T
F
S

1

2

3

4

5

6

7

8

9

10

11

12

13

14

15

16

17

18

19

20

21

22

23

24

25

26

27

28

29

30
May - 2024
S
M
T
W
T
F
S

1

2

3

4

5

6

7

8

9

10

11

12

13

14

15

16

17

18

19

20

21

22

23

24

25

26

27

28

29

30

31
Jun - 2024
S
M
T
W
T
F
S

1

2

3

4

5

6

7

8

9

10

11

12

13

14

15

16

17

18

19

20

21

22

23

24

25

26

27

28

29

30
Jul - 2024
S
M
T
W
T
F
S

1

2

3

4

5

6

7

8

9

10

11

12

13

14

15

16

17

18

19

20

21

22

23

24

25

26

27

28

29

30

31
Rates
* Rates are subject to change without notice. Pricing excludes taxes, additional options or fees.
| | | | | |
| --- | --- | --- | --- | --- |
| Vacation Rental Standard Pricing | Night | | | Min Nights |
| Low Season | $950 | | | 5 |
| Mid Season | $1,250 | | | 5 |
| Peak Season | $1,250 | | | 5 |
| Holiday Season | $2,500 | | | 5 |
Reviews
Notes
-Please respect
-No smoking
-Not up to parties or events
-Arrival Time 14:00 - 18:00
-Keep quiet after 23:00 pm
-Keep the place clean
-Check Out is at 11:00 AM.
-Security deposit is due and will be charged upon arrival.
-parents are responsible for the care of their children and have to be aware.

Please make an accurate description of the number of staying.

(We count a child who is older than 12 months as one guest. )
CHARGES WILL BE ENFORCED UNDER THE FOLLOWING CONDITIONS
Any smoking damage,Pee on the bed and floor.
Lost key and card key
Stained towels and sheets.
Extra cleaning fee.
Departure without turning off the power switches, such as the room lights, air-con etc.
PASSPORT OR IFE WILL BE REQUESTED UPON ARRIVAL IN ORDER TO CHECK IN
Similar Properties