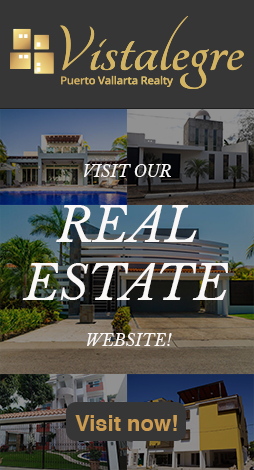 Puerto Vallarta Top 10 Destinations
---

---
Remember To Visit All!
Naturally, when you come to Puerto Vallarta you'll be tempted to spend your entire stay lounged serenely on the inviting, sun-kissed shores of this coastal utopia. However, the area benefits from an array of attractive activities and points of interest, so your stay in the city doesn't have to be limited to margaritas and madrugadas.

Marina Vallarta
---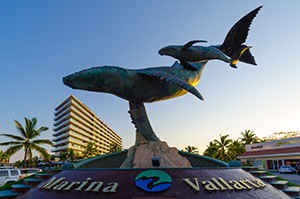 Marina Vallarta Is another interesting part of Puerto Vallarta, comprising the city's most dense population of high end restaurants, bars, entertainment venues and accommodations. The marina itself is home to a scenic boardwalk populated by bars, restaurants and cafes as well as a well-known lighthouse that also doubles as a unique dining destination.
The Malecon
---
No visit to Puerto Vallarta is complete without a stop on the city's famous Malecon boardwalk. This mile long seaside stretch located between Downtown Vallarta and the Pacific Ocean has activities for practically every preference, from bars and restaurants to dance clubs and souvenir shops. Another celebrated feature of the Malecon is its special collection of regional art celebrating the history and culture of the city. The Malecon also has an unlimited supply of crisp refreshing sea breeze and enchanting ocean vistas, so lovers of natural scenery will also want to take a trip here.
Our Lady of Guadalupe Parish
---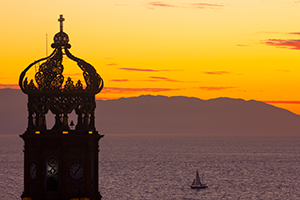 This historic Centro church is one of the pillars of the Puerto Vallarta community, which takes widespread pride in the country's religious roots. It is a defining piece of the city skyline as well as one of the most popular picture subjects in the area thanks to its exquisite architecture capped off by its distinctive tower depicting angels holding a crown aloft above the church.

One of the most significant events for this iconic iglesia is the Processions of Guadalupe, a series of small parades that end at the church over a 12 day period between December 1st and 12th. The church is also home to the bell tower, which adds its own signature notes to the symphony of the city on a regular basis, and hosts ceremonies in both English and Spanish for visitors.
Naval Historical Museum
---
Sitting vigilantly seaside near the southern tip of the Malecon is the Museo Naval, a curated collection of Mexico's maritime history. Since its opening in 2006, the museum has hosted thousands of captivated guests who venture in for a look at historic documents, maps and other exhibiitons along with scale boat and ship replicas that paint a colorful history of the country's military history. The museum also contains a coffee shop that offers free WiFi access along with a dining menu and a panoramic view of the Banderas Bay.
Playa Los Muertos (Los Muertos Beach)
---
If you are going to head to a beach during your time here, it should probably be this one. One of the largest beaches on the Pacific coast of Mexico, Los Muertos Beach is popular among locals and visitors alike. The area offers access to fun watersports such as parasailing, paddleboarding and jet ski sightseeing, making it the most complete slice of beach life for tourists in the Puerto Vallarta area.

A stop at Los Muertos Pier is an excellent idea during your stroll alongside Centro. Jutting out over the mighty Pacific, this pier is an incredible place for photo ops and people watching perspectives. The pier also serves as the terminal for the water taxi system, which offers a convenient way to explore offshore as well as visiting nearby islands inaccessible by land.

Isla Rio Cuale (Cuale River Island)
---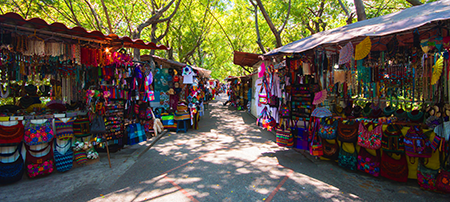 The Rio Cuale is the de facto dividing line between downtown Puerto Vallarta and the Romantic Zone, and perched in between its two banks is a narrow strip of paradise known as Isa Rio Cuale. Isla Rio Cuale is a remarkable destination lined with cobbled pathways and dense thickets of trees which make an ideal setting to enjoy a meal at one of the island's dining options. Isla Rio Cuale is also a great observation point for visitors curious about the local iguana population, as many of them make their homes nearby. It is also home to a small archeological museum, giving it a surprising range of activities in such a relatively small area.
Old Town
---
The origins of Puerto Vallarta are nearly palpable in these celebrated streets, a time capsule to the city's proud founding. In these cobblestone streets are some of the oldest and most storied buildings in th city as well as a plethora of local shops. Visitors to this area of the city can enjoy authentic Mexican architecture and décor in its homes and businesses, and the neighborhood is also home to some of the area's best and most popular dining options for those looking for a true taste of local culture.
Mismaloya
---
South of the city lies Mismaloya, a small fishing town crowned by a golden stretch of pristine sand. It offers a welcome respite for long term visitors looking for an escape from the near-constant buzz of the city, featuring world class accommodations interspersed with dense expanses of jungle. Mismaloya is home to the Puerto Vallarta Zoo as well as a tequila factory where you can sample local spirits, making it a worthwhile day trip during your stay in the area.
Los Arcos National Marine Park
---

Los Arcos, the small network of islands south of the city, are another outstanding opportunity to enjoy Puerto Vallarta's natural riches. The ocean surrounding these small islands extends to some of the deepest depths in Banderas Bay and is home to an extraordinary variety of undersea life, making them a popular choice for snorkeling and scuba diving trips. The islands themselves are also of note to nature lovers, hosting rare species even for the region.
The Manuel Lepe Collection
---
Manuel Lepe is the most legendary artist in the history of Puerto Vallarta, and his works are known around the globe. They are especially significant in the city, where they form one of the core parts of the local aesthetic. Born and raised in the city, he found himself inspired by the character of what was at the time a small fishing village bounded on all sides by goodwill and natural wonders.

His work hangs in the home of England's Queen Elizabeth II among the estates of dignitaries and collectors worldwide, inspiring in them the childlike delight that drove him to greatness. It also decorates the streets of Puerto Vallarta in select locations, including a large piece in the outdoor stairway at the city municipal building.





Puerto Vallarta boasts a number of destinations no thorough traveler should miss on a visit to the area. These places and experiences present the definitive picture of the city as a singular blend of welcoming scenery and rich culture.
---
Read More Blog Entries
---



---
Back To Topics