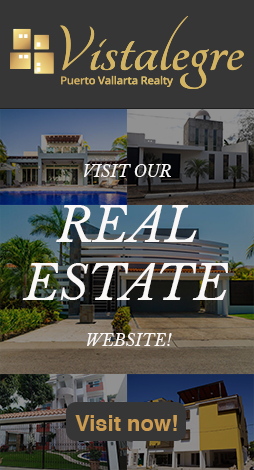 7 Things You Can Strike Off Your Bucket List By Visiting Puerto Vallarta
Fri. Dec/21th/2018.
---
---
Puerto Vallarta started out as a small fisherman village, but since being discovered after the critically acclaimed movie "The Night of the Iguana" in 1964, has flourished into one of the top tourist destinations. Slowly but surely, the city has progressed into a contemporary and inviting city with a plethora of first-rate restaurants, fancy hotels, and resorts. Sitting snugly on the coast of the state of Jalisco, this picturesque small beach resort city boasts so much beauty that it was extremely challenging coming up with only 7 things to strike off your bucket list! That being said, here are 7 things I would strike off my bucket list when visiting Puerto Vallarta.


1. Enjoy a picturesque stroll down the Malecón
---
Touted as the main attraction of the city, after walking along the Malecón one can almost safely say that they would have experienced the essence of Puerto Vallarta. Malecón means esplanade along a waterfront in Spanish, and a leisurely stroll along this beautiful promenade along Banderas Bay, one of the most magnificent bays in the world, will present you with so many sights and experiences that you may be stuck here for hours! It is also what makes Puerto Vallarta so Mexican, and you can experience everything from local traditional art to amazing sunset views and even the annual migration of humpback whales.

Taking you away from the busy streets filled with zooming cars and public transportation, the Malecón has been designed specifically for pedestrians, with palm trees for shade and resting areas for you to just sit and soak in the view. With statues lining the promenade, intricate traditional Huichol motifs on the ground, and performances by the Papantla Birdmen who circle 100 feet above the ground near the famous seahorse statue, the cherry on top would definitely be the free Wi-Fi provided, so you can even live-stream the amazing sunsets or the nightly fireworks from the pirate ship cruise!


2. Release baby sea turtles
---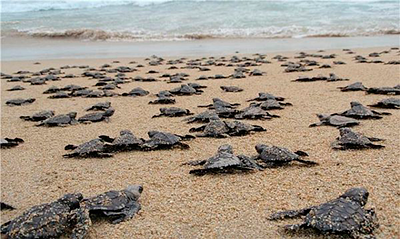 As one of the favorite Mexican beach resorts for tourists, Puerto Vallarta has played their part in local environmental protection by spending the past thirty years supporting local sea turtle protection programmes. Hotels, restaurants, and tour operators have linked arms to organize the annual turtle breeding season that runs from July to December, in a bid to take a step towards eco-tourism. Initiated in 1981, the conservation programme attracts tourists in the thousands to many different resorts along the Pacific coast. If you are lucky you might even be able to observe the mother turtle spending hours digging a hole to bury her eggs in!

For those keen on playing a part, turtle releases are organized every night to give the hatchlings higher chances of survival. Children who take part in these programmes are also given the honor of naming the hatchlings as they're released back into the ocean.


3. Visit one of the top ten botanical gardens in North America
---
Chosen as one of the Top 10 North American Gardens Worth Travelling For in 2013, the Vallarta Botanical Gardens are one of Puerto Vallarta's main attractions and house twenty-six hectares of a diverse variety of flora, fauna, and even a bird reserve. You could take a detour to Mismaloya Beach or Los Arcos Marine Park on the drive in if you'd like too.

Once you enter the garden soak in nature as you leisurely stroll through the many different gardens or take a seat in one of the many couches provided and simply enjoy the sights, smells, and sounds encompassing you. Located 1,300 feet above sea level, the gardens were opened to the public in 2005 and you can even take a dip in the Horcones River or the Emerald Pools if you'd like.


4. Stuff yourself silly on a Puerto Vallarta food tour
---
There is probably not much that I love more than food. That being said, what better way is there to experience a country than through their food? Mexico's cuisine has made it to the list of Intangible Cultural Heritage of Humanity by UNESCO, an award that hasn't been given to any other national food groups, and for good reason. Years of history and culture are served to you on a plate ready for you to enjoy. Nominated for the Best Gourmet Destination in Mexico in the 2018 Reader Awards, Puerto Vallarta has made a name for itself as one of THE choicest gourmet destinations due to their vast array of gastronomic offers

Having hosted the International Gourmet Festival for over fifteen years running, Puerto Vallarta is continuing to expand their culinary influence on the world by hosting Michelin Star celebrity chefs and a wine festival amongst many other activities. For those looking for good food on a budget, not to worry as there is a long list of restaurants and street stands to choose from, or you could even opt for a food tour!


5. Enjoy a swim with the dolphins
---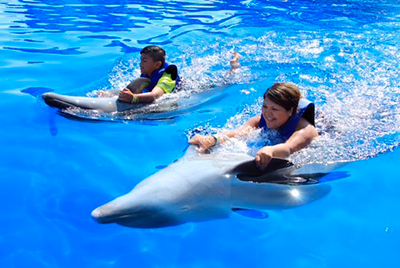 Anybody who adores animals will probably take great delight in this activity. Instead of just enjoying the beautiful beaches of Puerto Vallarta, why not try swimming with the dolphins? Las Caletas and Nuevo Vallarta are just two of the places that offer this amazing experience with the friendly mammal.

Both programmes start with educating you on the dolphin's basic anatomy as well as hand signals to help you better communicate with your new friend. Next, you'll get to meet the dolphins and even get to hitch a ride on their back or enjoy a swim with them! At Caletas, they also have a wide range of water and land-based activities for you to enjoy after your dolphin encounter so you can spend your whole day there frolicking in the sun.


6. Tequila the night away
---
An undeniable part of Mexican heritage, one cannot mention Mexico without first thinking of Tequila and Mariachi music. Boasting an elaborate history, there are five officially approved types of Tequila, each bearing its own distinct color and flavor. Namely, Silver (Blanco), Young (Joven or Gold), Aged (Reposado), Extra-aged (Añejo) and Ultra-aged (Extra Añejo).

It is here in Puerto Vallarta, one of the authorized Tequila producing zones in Mexico, where you can find these five and more, and you can even go on Tequila tasting tours, some which start from your hotel doorstep! Catered for anyone from novices to connoisseurs, there are a whole range of tours and places to choose from. Alternatively, you could walk along the bay as they sometimes give Tequila out for free!


7. Zip-line your way through the canopies of Puerto Vallarta
---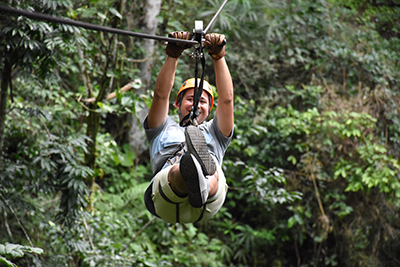 A great deal of emphasis of Puerto Vallarta is on its natural beauty, and what better way to experience it than to pair it with a little thrill? Enjoy a bird's eye view of the forest and river as you zip by the canopies. Fully trained guides will give you a safety briefing and show you the basics of how to slide along the wires as well as safety procedures and requirements. After getting fitted with your full body harness, you are then ready to enjoy the ride.

There are 7 main zip line tours in the area, namely Canopy River, Canopy Los Veranos, Extreme Zip Line Adventure (Vallarta Adventures), Canopy La Vista, Mundo Nogalito Canopy, Las Animals Adventure Park, and Rancho Mi Chaparrita. Depending on the tour you choose, some also come with optional extreme activities, refreshing dips, meals or Tequila tours.


For more destination guides and accommodation reviews on Puerto Vallarta, check out Trip101.


---
---
Read More Blog Entries
---



---
Back To Topics