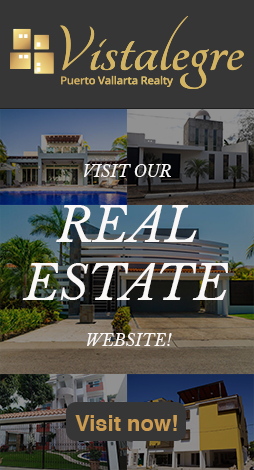 Where in the World is Puerto Vallarta, Mexico?
---

---
Many curious vacation planners and new travelers have little trouble pinpointing the location of the most desirable destinations in their home countries, but in a country as large and diverse as Mexico, charting the placement of its famous tropical paradises can be challenging. Puerto Vallarta in particular has an ideal placement for visitors from throughout the Americas, bringing the best of a dream getaway together with a convenient centralized location.
Where is Puerto Vallarta on a Map?
---
Puerto Vallarta is situated on the mid-Pacific coast of Mexico, roughly an equal distance from the US border and its southern border, which leads into Belize and Guatemala. This placement helps draw in droves of visitors from both North and South America as well as from around the country, with Puerto Vallarta even standing as a favored vacation destination among native Mexicans.

Located on the Banderas Bay, Puerto Vallarta is part of the state of Jalisco, one of Mexico's 31 states (along with the Washington D.C.-like designation of Mexico City as a Federal District). Jalisco is an especially appealing state for travelers looking to dive into traditional Mexican culture, as many of the country's most identifiable traits—from mariachi music to tequila production to the delicious savory beef stew known as birria—have their roots here. This close association with the country's enduring character gives the state its official motto: "Jalisco es Mexico!"
What Airport is Puerto Vallarta Served By?
---
Flights into Puerto Vallarta are handled by the local air terminal, Aeropuerto Internacional de Puerto Vallarta Licenciado Gustavo Díaz Ordaz…but friends call it PVR for short.

Named for a former president of the country, this airport services over 3 million passengers annually and is served by an array of domestic carriers such as Aeromexico as well as international airlines including American Airlines, British Airways, Air Canada, Westjet and Southwest Airlines. Thanks to recent expansions stemming from increased interest in the area, this airport is outfitted with world class amenities such free WiFi throughout its terminals along with extensive retail and food court options.
Is Puerto Vallarta near Cabo San Lucas?
---
Some tourists find themselves wondering if it is possible to take in more than one of Mexico's most popular vacation hot spots in a single visit. However, the size of Mexico as a country is often underestimated by visitors, being one of the top 15 independent nations in the world by area. Indeed, Cabo San Lucas is located across the Sea of Cortez from Puerto Vallarta in Baja California. This placement at the extreme southern tip of the far western peninsula puts it over 1,200 miles from the Banderas Bay, which is more than the distance between London and Rome.
Is Puerto Vallarta near Cancun?
---
Similarly, Cancun is typically high on the wish list of those looking for a signature brand of fun in the sun. However, the city is located at one of the easternmost points of the country, sitting on the Yucatan Peninsula in the state of Quintana Roo. This places it about as far from Puerto Vallarta as New York City is from Denver, Colorado, and while it is technically possible with an extended vacation of 2 weeks or more, the fact is that an abbreviated stay in any of these fantastic destination can rob a vacation of the full and distinct experience offered by each.
What Time is it in Puerto Vallarta?
---
Puerto Vallarta is situated in the Central time zone, putting it in line with cities such as Chicago, Winnipeg and the country's capital, Mexico City. This convenient slotting gives Puerto Vallarta a clear advantage over destinations at the far ends of the country, allowing many visitors to run 2 hours or less off their home schedules to help combat travel fatigue and make the absolute most of their stay.

A special note about time in Puerto Vallarta is that Daylight Savings Time—hora de verano to locals—has been observed differently from the time frame common in the United States and elsewhere since its nationwide adoption in 1996. For the year 2016, clocks in Jalisco will be turned backward on October 30, about a week earlier than in America, and turned back about a week afterward on April 3, 2017.

The explosion of growth in the Banderas Bay area is proof that more visitors are learning that this sunny, inviting locale is closer than they think. Although some still consider it one of the country's best kept secrets when compared to more celebrated tourist towns like Cabo or Cancun or even the big-city energy of the Mexican capital, more and more visitors every year are discovering the unique offerings that a visit to the dream getaway destination known as Puerto Vallarta can deliver.
---
Back To Topics