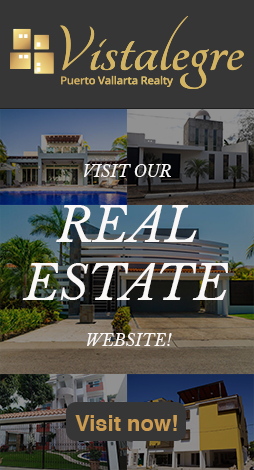 Around the Banderas Bay: Puerto Vallarta to Punta de Mita
---

---
A trip to the Puerto Vallarta area offers even more than a stay in this picturesque Mexican beach town…it's also an opportunity to discover the wondrous range of experiences that the towns of Banderas Bay have to offer. If the casual urban vibe of Puerto Vallarta itself isn't quite enough of a departure from home, there are an array of other nearby destinations that offer a different spin on paradise.
Nuevo Vallarta
---
A recently constructed network of resorts lying 15 to 20 minutes north of the PVR airport, Nuevo Vallarta and its beautiful beach welcome visitors to the Banderas Bay area to life outside the city. Playa Nuevo Vallarta is a particularly outstanding choice for an afternoon of leisure, featuring wide, spacious beaches and much less rocky terrain than on other Banderas Bay beaches.
Bucerias
---
It's easy to overlook this small seaside settlement on the way to more popularly visited destinations such as Punta de Mita and Sayulita, but this tiny town has a charm all its own. Bucerias is home to a significant commuter population, lending to its flair as an even more nuanced glimpse of authentic Mexican culture than is offered in more areas of Puerto Vallarta. Bucerias is also of interest because of its scenic shoreline, which offers a tranquil surf and powdery sand ideal for swimming and lounging.
La Cruz de Huanacaxtle
---
Thankfully known simply as "La Cruz" in common discourse, this sleepy fishing village is undergoing something of a transformation as interest grows in the Banderas Bay area. Recent years have seen efforts to turn this small coastal town into a major local port, with hotels and other residential development spreading quickly throughout the area and even plans for a full scale marina in the future. For now, however, La Cruz is home to a small, intimate beach enjoyed by locals as well as the occasional traveler looking to dig deeper into the Mexican lifestyle.
Playa Destiladeres
---
The most popular of several smaller beaches that lead away from the La Cruz area, Playa Destiladeres is a favored beach for Mexican families on vacation because of its active surf that encourages activities such as surfing and boogie boarding. Naturally, tourists are more than welcome too, and with the selection of small restaurants and bars that line this beach along with the signature sunsets of the Banderas Bay, they'll be sure to find out for a fact what locals love about this inviting stretch of sand.
Sayulita
---
Keeping your northern bearing on Highway 200 leading out of Vallarta will lead you to Sayulita. This bohemian utopia has gained the reputation of a surfer's town, with shops and schools throughout the center of the city. Although Sayulita is small, it boasts an outsized range of activities from sightseeing to watersports, and also hosts a popular weekly beach party at a local waterfront bar every Friday. One of the most relaxing destinations in the Banderas Bay, Sayulita has an unmistakably mellow feel that is absolutely infectious for visitors to the area.
Punta de Mita
---
Punta de Mita is known around the area and across the country for its welcoming, family friendly nature as well as its extensive selection of bars and restaurants situated directly on the beach. After undergoing major restoration efforts following the damage caused by 2001's Hurricane Kenna, Punta de Mita is back and better than ever. Its premier beach, Playa Anclote, is a solid expanse of golden sand that stretches for several uninterrupted miles, providing ample opportunities for incredible photos. Punta de Mita is also famous for being home to the seasonal residences of royals, celebrities and other dignitaries, with their exquisite homes on full display in this striking seaside setting.
There is perhaps no better place in the world in which to find yourself than Puerto Vallarta, but the surrounding area is home to some spectacular sites and sights as well. The beauty of the Banderas Bay area is practically beyond compare, and curious travelers would be well served by experiencing each of these unique locales as well as Puerto Vallarta itself.
---
Back To Topics