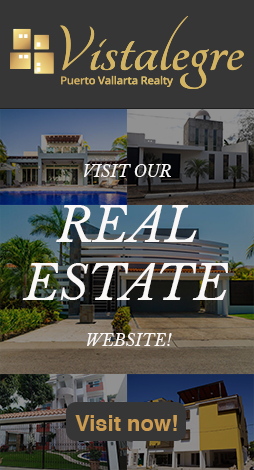 Beaches of Puerto Vallarta
---

---
The beaches of Puerto Vallarta are perhaps the city's most celebrated asset. Visitors to Puerto Vallarta will be happy to learn that all beaches in the city as well as in the country at large are classified as public property. This means that with the exception of some military installations, individuals and businesses built adjacent to the shore have no rights to the beach itself, and cannot deny passage to individuals traveling to or across it. Unscrupulous restaurant and resort managers may try to contend that the beach territory their establishment blocks is private, but these claims have no standing in law and may be freely ignored.
Playa El Salado
---
Playa El Saldo is the northernmost major beach in Puerto Vallarta city limits. Framing Marina Vallarta, this stretch of sand is partially blocked by a federal government facility as well as a row of hotels. While there is a point of access that can be found between the Melia and Mayan Palace Marina hotels, its placement means that much of it is difficult for visitors not staying at the nearby lodging to enter. Fortunately, there are other, more welcoming beach experiences within walking distance.
Playa de Oro
---
Forming the greater part of the section of shore at the edge of the Hotel Zone, Playa de Oro is one of the most favored beaches in the area. This beach is an outstanding choice for a visit with family and friends, offering wide expanses of sand for sun kissed napping in between dips in the ocean. Playa de Oro is bookended by large rocks, giving it the feel of a mini-bay in and of itself. Both locals and tourists enjoy this relaxing seaside setting, giving it one of the most diverse sets of visitors of any local beach.
Playa Las Glorias
---
Playa Las Glorias is something of a catchall term, describing the some of the seaside stretches connecting Marina Vallarta with Playa Pelicanos. This beach runs alongside the city's hotel zone, and is marked by the chain of resorts and other tourist accommodations that separate it from points inland. Visitors who book stays in Hotel Zone properties will find this beach outside their buildings, providing a quick and easy escape to tropical paradise. However, this beach is also open to the public, and government mandated points of access dot the road that runs alongside it.
Playa Camarones
---
Playa Camarones borders the Centro area of the city, stretching out to the southern end of the Hotel Zone. This beach is large and wide, providing ample space for stretching out on a towel even during the most popularly visited times of year for Puerto Vallarta, and also offers an ideal angle on the fantastic sunsets for which the area is known, with the Sun centered as it sinks slowly into the cerulean sea at the end of a day.
Playa de Los Muertos
---
Perhaps Puerto Vallarta's most visited beach, the stretch of sand south of the Rio Cuale that encompasses the nearby Playa Olas Altas is one of the city's prime destinations for tourists. This sunny seascape is long and wide with a surf that is typically very calm, making it an outstanding choice for a family outing or an afternoon spent in the company of cool people and cold beer.

The beach is also populated by an array of bars and restaurants with waterfront seating, allowing visitors to sip a margarita while basking in the caress of a gentle ocean breeze. This beach is also a hotspot for watersports, with activities such as jet ski riding, parasailing and paddleboarding widely available in the area. Craft, food and souvenir vendors patrol the shore offering their wares to curious visitors, and an added spectacle comes in the form of local fishermen, who masterfully employ basic rods and nets to build their bounties on a popular onsite fishing pier.

Another appealing aspect of this world famous beach is its proximity to Puerto Vallarta's Old Town, a nexus of shopping, dining and entertainment located just inland.

Playas Punta Negra, Garza Blanca and Gemelas
---
As you leave the most populous portions of Puerto Vallarta, you'll encounter these three small beaches on the way to Mismaloya. Although they are difficult for tourists to access due to residential development or steep cliffs that can obscure the view of them from vantage points on the road, this exclusive nature is a virtual magnet for more adventurous travelers. Keep a sharp eye out on Highway 200 for points of entry to these relatively rarely seen beaches, which can offer a welcome escape from more crowded areas of town.
Mismaloya
---
On the outskirts of Puerto Vallarta rests the beautiful Mismaloya beach, which despite suffering severe damage as Hurricane Kena flirted with the edges of the coastline in 2001 remains a popular destination for those looking for a relaxing afternoon in the Pacific Coast sun. This beach is still home to a number of inviting restaurant and bars where visitors can enjoy refreshments, and even better, it is currently the beneficiary of significant reconstruction efforts to restore it to its former glory as one of the area's most popular tanning zones.
Boca de Tomatlan
---
This secluded utopia just outside of the city proper heading south is a small beach at the meeting of the Tomatlan River and Banderas Bay. This location makes it a good choice for swimming and snorkeling to enjoy the undersea panorama as well as enjoying a fresh caught seafood meal in one of the locally run beachfront seafood restaurants. Travelers can also visit the "hidden beach" at Yelapa by taking a water taxi from this point, which is inaccessible by land.

The southern beaches between Playa de Los Muertos and Boca de Tomatlan can be easily accessed from the Centro or Old Town neighborhoods of Puerto Vallarta with a short ride on one of the orange city buses that depart from the Oxxo convenience store on the intersection of Basillo Badillo and Calle Constitucion.

Puerto Vallarta is home to a number of picturesque beaches to welcome weary visitors into the sunny local mindset. Residents and visitors can enjoy not one but several scenic beaches across this stretch of the Banderas Bay, each offering its own unique atmosphere and character.

---
Back To Topics